Main content
Businesses Committed to Conservation
Posted Tuesday, May 2, 2023
— News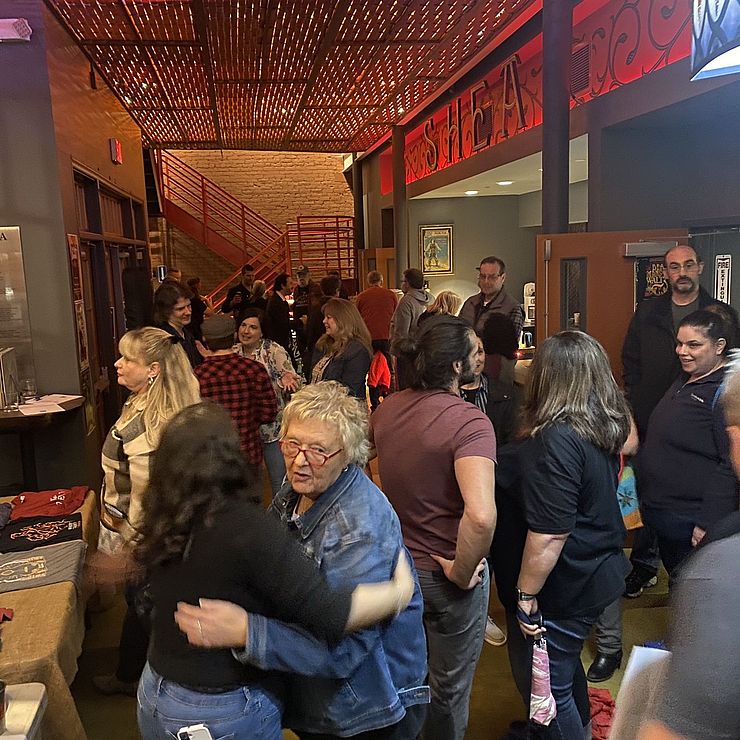 Among the many passionate individuals and groups that we partner with are businesses large and small that want to make a positive impact in the communities in which they work. This spring, Mount Grace has been working with a few businesses with exceptional dedication to social and environmental responsibility in our region. Harnessing the resources that each group has at their disposal, contributing their greatest strengths, we can work together to have an even more powerful impact protecting and caring for places that are special to us all.
Northeast Paving in Northfield has been volunteering both time and resources with Mount Grace's stewardship team at our popular accessible trail just south of Northfield's downtown – the Alderbrook Meadows Wildlife Sanctuary. Accessible trails require much more investment to maintain than typical trails in our region as they must meet strict quality standards for slope, width, and surface texture. The trails at Alderbrook are lovingly maintained by the "Friends of Alderbrook" trail group, but sometimes need a little extra attention when heavy rains erode crushed stone from sections of the trail. Northeast Paving is donating additional crushed stone, delivery, and help to adjust certain problem areas to be less impacted by severe weather in the future. Plans are already underway for additional projects with mutual enthusiasm!
On the other side of our region is another example of excellence in corporate community engagement – Bemis Worldwide's local office in Shirley has a robust community service program supporting many environmentally-focused nonprofits throughout our region. Later this month, Mount Grace's Fox Valley Conservation Area in Phillipston will be one of a dozen projects included in Bemis's annual "Green & Clean" event. This kind of employee volunteer opportunity not only benefits the land but also creates an opportunity for co-workers to enjoy some time outside together and discover new places to visit. We look forward to working alongside Bemis volunteers, and celebrating a job well done at the Bemis Community Garden.
Speaking of celebrating, one last business collaboration we're excited about is the RallySound Adam Ezra Group's mission of music and community. This past weekend, we were honored to be the "good cause" uplifted at their concert at the Shea Theater in Turners Falls. RallySound believes that music has the power to inspire communities, and that small grassroots communities have the power to change the world. The community they have cultivated amongst their loyal following of concertgoers was emphatically shown by the many hugs and warm greetings as the doors opened. Spreading the word about the power of protecting land to positively impact everything from climate and food security to personal wellness, especially in a full theater of new faces, was a great opportunity.
It takes the whole community to protect and steward the natural landscape of our region. There are so many ways that groups can make powerful and creative contributions to land conservation with Mount Grace. If you think your company can play a part in this effort, read more about ways to engage here.