Main content
Landscape Conservation: 1,800+ Acres Protected in 2012: A Banner Year!
Mount Grace Land Conservation Trust completed four conservation projects on the last day of the year, including 373 acres acquired in Northfield and Warwick as part of the Metacomet-MonadnockForest Legacy Project.
In sixteen projects, the trust protected 1,816 acres of land in 2012, including working farms in Northfield and Winchendon; a new conservation area on the Tully River in Orange, gifted to Mount Grace and open to the public; Phillipston's new town forest on Baldwin Hill Road; and five properties qualifying for the new Massachusetts land conservation tax credit.
Mount Grace Executive Director Leigh Youngblood also announced the start of the Campaign for Affordable Farms-Red Fire Farm Project at the Montague farm in May. The campaign will result in a permanent partnership between Mount Grace and all future farmers at the 122-acre property, currently operated by Ryan and Sarah Voiland as a 1,400-member Community Supported Agriculture (CSA) farm.
Mount Grace and the Voilands are establishing a new model of farm ownership in the region that will make it easier for farmers in Massachusetts to gain access to farmland and run family farms without taking on unsustainable debt just to get on the land. "The affordable farm model secures sources of local food," says Youngblood. "This is particularly important in Massachusetts where farm land and housing costs are among the highest in the country. Owning and leasing farm land is one way Mount Grace can achieve its mission to encourage land stewardship." Thanks to early support, including a grant from the Pew Charitable Trusts, Mount Grace has already raised $333,707 of the $400,000 needed.
The Massachusetts Land Initiative for Tomorrow (MassLIFT-AmeriCorps), a statewide program managed by Mount Grace, which partners with AmeriCorps to support local land conservation and stewardship and community engagement, announced the results of its first two years. Since Mount Grace began the program in 2010, MassLIFT-AmeriCorps members have: compiled stewardship information for 21,134 acres of protected land on 394 properties in 91 Massachusetts towns, engaged 4,134 volunteers in 21,037 hours of community service, and initiated or assisted 88 land protection projects in 42 municipalities.
"MassLIFT has attracted remarkably talented individuals to serve with our program," says Program Manager Dee Robbins. "While impressed by the high levels of conservation activity provided by our members' assistance, I am most excited by new projects that have developed out of a member's special interests. Good examples include the new community garden at East Quabbin Land Trust's Frohloff Farm, where Service Learning Coordinator Kelly Wheeler, helps volunteers grow vegetables for the healthy foods and cooking program that she has created for a nearby elementary school."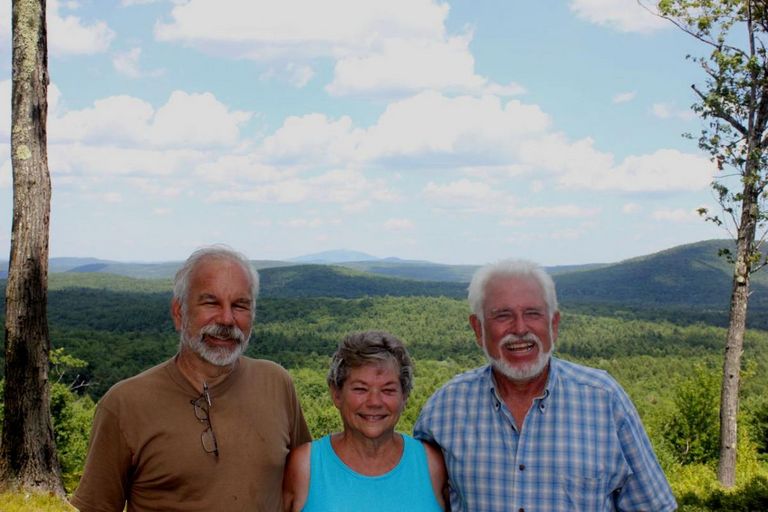 Lynne Manring was one of the landowners who protected her property on December 31, 2012 as part of the Metacomet-Monadnock Forest Legacy Project, which has now conserved approximately 1,100 acres in six towns. A historian at the Pocumtuck Valley Memorial Association, Manring was inspired to choose her career while reading Little House on the Prairie to schoolchildren. She worked for nine years at Sturbridge Village, which she describes as "like graduate school—they provided a great deal of opportunity to do research."
Manring's 46 mostly-wooded acres are the site of the oldest standing house in Warwick. The woods have now grown in on much of the abandoned farmland, as evidenced by stone walls found along its boundaries, and abound with trees that provide nutrient-rich food for wildlife, including oak and cherry trees, thickets of blackberries, and hazelnuts. Black Brook, which arises at a pond just northwest of the land and flows through several small peaty swamps on the property, was the site of both a colonial-era sawmill and a gristmill. "As much as I'm interested in conserving the environment," Manring adds, "I have a piece of land here that's seen very little change or breakup over its life and as a historian it's very important for me to maintain that."
Other properties protected through the Metacomet-Monadnock Forest Legacy Project—named for the trail which was recently designated New England's National Scenic Trail--include a 96-acre homestead in the Sunny Valley section of Warwick and a Northfield farm which, with its attendant woods, covers 232 acres.
Partners in the Metacomet-Monadnock Forest Legacy Project include local towns, Mount Grace, the Massachusetts Department of Conservation and Recreation, the Greater Northfield Watershed Association, and the USDA Forest Service, which provided a $1,645,000 grant to conserve the land. DCR's Bureau of Forestry serves as the lead agency to administer the Forest Legacy Program in Massachusetts. Other grants in support of the project were provided by the Bafflin Foundation, the Community Foundation of Western Massachusetts, and the Fieldstone Foundation.
The majority of the land Mount Grace protected in 2012, 1,131 acres, is in Winchendon and Ashburnham, where the Beals and White families protected their forest land with support from the Forest Legacy Program, a Massachusetts Landscape Partnership Grant, the Open Space Conservancy, and the Doris Duke Charitable Foundation. These large blocks of land will be available for sustainable forest management and trails on the properties will be kept open to the public in perpetuity.
The public is also invited to two new conservation areas conserved with help from the trust. Plans for Phillipston's new Baldwin Hill Conservation Area include trails to provide easy public access for families to encounter the natural beauty of Thousand Acre Swamp, which hunters, anglers, hikers and bird watchers alike have long enjoyed. In North Orange, Mount Grace's newest conservation area, the former Gifford property on the Tully River, will be open to the public for recreation and nature study. "The Gifford property has over 1,500 feet of stream frontage alongside the West Branch of the Tully River," says Mount Grace Stewardship Biologist Tom Wansleben. "MassWildlife designates the West Branch as a cold-water fishery resource that provides critical habitat for species such as Eastern Brook Trout. We invite the public to enjoy the property for non-motorized activities such as fishing, hiking, and relaxing by its unspoiled waters."