Main content
On the Trail: Tully Mountain. By Allen Young
Posted Monday, October 3, 2022
— News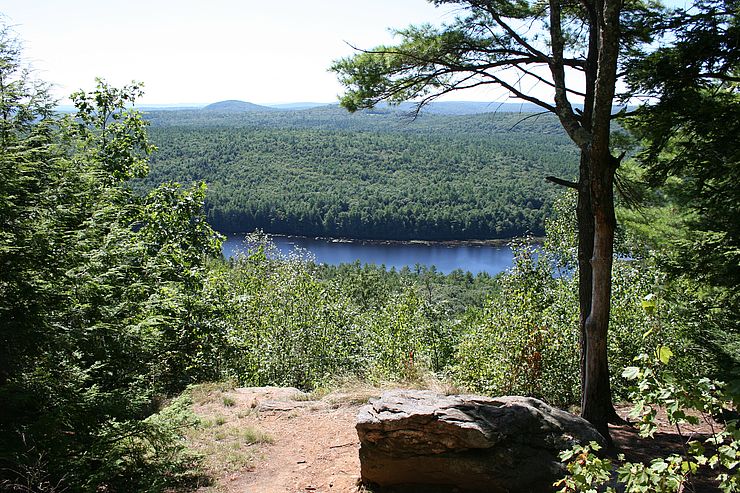 For decades, one of the most popular hikes in the region has been climbing Tully Mountain in Orange, and it certainly should be a "must" for anyone seeking a rewarding outdoor adventure.
Tully Mountain, sometimes called Mount Tully, reaches 1,163 feet above sea level, but the uphill hike actually ends a little beneath the tree-covered summit at a rocky outcropping with views to the north, south and east.
If hikes are categorized as easy, moderate, and difficult, I would say that Tully is a moderate hike. With ample time at the summit for a picnic and some rest, hikers should allow about two hours or more. Exuberant athletic individuals can run up and down in less than an hour – and I've seen mountain bikers on the gradual spur trail.
Tully Mountain is one of the most important destinations of the Tully Trail with its yellow blazes – a 22-mile loop through Orange, Warwick and Royalston. The best trailhead for Tully Mountain hikers is at the end of Mountain Road, just off Royalston Road in the village of Tully. The road dead-ends at a gate and there's an ample parking area. Signs point to the Tully Trail, to the left, offering a steep ascent with elevation gain of about 500 feet.
But this is important: Ambling along a flat old roadway through a meadow (where a farmhouse was razed about 20 years ago), hikers can follow the blue-blazed spur trail to the top – that's the gradual ascent. It's common practice for people to hike up the steep ascent and down the gradual. Be aware that the steep ascent is quite rocky and can be slippery when wet or covered with autumn leaves.
Another access via the Tully Trail is from Tully Road, just south of its crossing of the Tully River and south of Creamery Hill Road. There's parking for a couple of cars, and this route is also gradual but a little longer than starting from the Mountain Road trailhead.
Tully Mountain is located within the Tully Mountain Wildlife Management Area and is managed by the state's Division of Fisheries and Wildlife. But that's a recent development. For decades, big-time logger Roy Wetmore (1895-1994) owned Tully Mountain and he welcomed hikers. However, the future of the land was never certain and communication towers were popping up everywhere, so when I got involved with Mount Grace in the 1980s, I expressed concern at board meetings. With the involvement of Mount Grace, this special place became protected land open to the public in perpetuity. A biologist was hired by Mount Grace to do a wildlife study of the area and that was essential in getting MassWildlife interested.
In the past, I've taken friends up Tully Mountain and even led a group hike once, and I especially enjoy sharing my knowledge of what can be seen at the top. With everyone mostly looking east, the sights suggest an arc from right to left: Tully Pond, Packard Pond, Athol landfill, uptown Athol (including Bearsden antennas), Mount Wachusett, a wind turbine at Narragansett Regional School in Baldwinville, Tully Dam and Lake, former Hubbard Lumber buildings, steeple of Royalston church, Mount Watatic, Mount Monadnock and Gap Mountain.
This hike is always fun, and you might see or hear ravens, included in that wildlife study.
---
Mount Grace has asked witer and longtime member Allen Young to coordinate a series of articles about hikes on land which has been protected with the help of the trust.