Main content
On the Trails: Eagle Reserve
Posted Wednesday, February 1, 2023
— News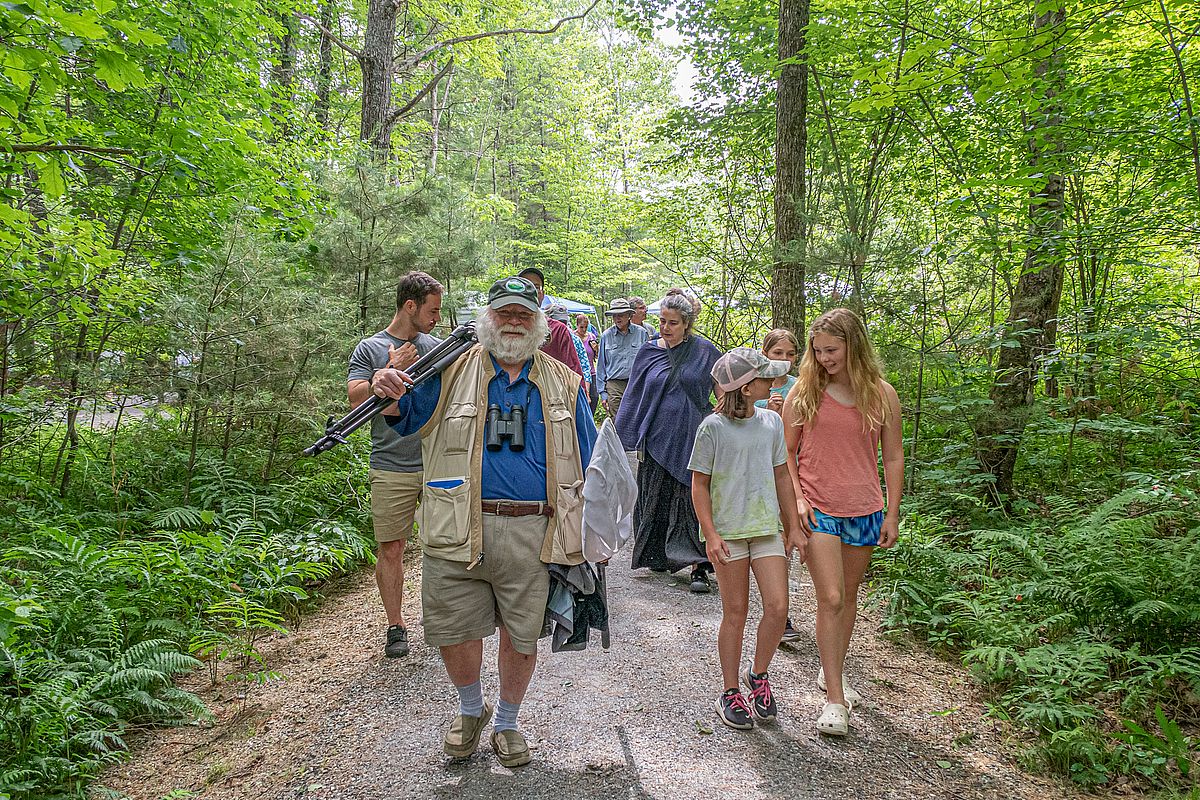 A Beautiful Place, Easily Accessed
Scenic views (guaranteed) and assorted wildlife (if you are lucky) are the rewards hikers get for a visit to the Eagle Reserve Conservation Area in Royalston.
Royalston is one of the state's least densely populated towns – and its abundant natural resources are a major reason why I purchased land in 1973 and have made this town my home ever since.
The 139-acre Eagle Reserve site was acquired in 2016 by Mount Grace from private landowners (the Solinas and Zimmerman families) with some funding and support from Royalston town meeting voters. The property is located just a few miles east of the beautiful town common in the Royalston Historic District.
I know from experience that the Historic District's beauty and serenity are startling and rewarding for first-time visitors. Therefore, I recommend a three-step strolling and hiking experience.
First, if you have never done it before, you might start by parking at the Royalston town hall and walking around the common to observe the mostly Federal period architecture. There's no commerce here nowadays, just private homes and various public buildings.
In the grandest of these houses, Patience Bundschuh hosted several festive gatherings for Mount Grace. Alas, she has health issues and is residing in an assisted living facility.
After your town common stroll, set your global positioning system (GPS) for 55 Winchendon Road, Royalston, and enter the parking area where there is an informative kiosk. This is the trail head for the David H. Small Community Trail, no more than 1,000 feet long, and accessible for wheelchairs, and leading to a pleasing viewing platform built by volunteers. If you spend time at the kiosk you will see the names of many people (not me) who helped create the viewing platform and the trails, and I enjoy the fact that I am personal friends with many of them!
From the platform, enjoy the view, which includes a nearby beaver lodge (maybe in use, maybe not). Rest on the benches. On a clear day, you can see the summit of Mount Monadnock, Jaffrey, N.H., in the distance. Chances are good you'll at least see some birds.
The third and final piece of your Eagle Reserve visit requires that you return to your car and drive a few hundred yards to 70 Winchendon Road, Royalston, to hike on the Peninsula Trail.
Parking is available across the road at the state-owned Wildlife Management Area (there's a sign there). You need to cross the road and find the trail head with a kiosk just past a private home at the start of the guard rail.
The Peninsula Trail offers a moderate hike – no more than an hour round trip – with an optional loop over a small hill. The view at the end of the peninsula is spectacular.
The Mount Grace website also lists another trail, called the Stone Road Trail, one-quarter mile on Stone Road, with roadside parking, but I haven't gone there yet.
Here are a couple of informative paragraphs from the website, which also includes a drone video by Paul Rezendes of Athol and a helpful map:
"Eagle Reserve Conservation Area is a 139-acre mix of woods and wetlands, including a floating Spruce-Tamarack Bog and a Level Bog, which is a complex community that floats upon a large beaver-influenced pond. Thanks to a Massachusetts Recreational Trails Program Grant, our new David H. Small Community Trail provides people with limited mobility access to the beauty of this amazing wildlife refuge—a patchwork of ponds and wetlands providing habitat and refuge for wildlife in a sheltered wetland where no signs of human habitation are visible. A breeding pair of bald eagles has nested near the waterside in past years. Rare pied-billed grebes are also found on the reserve, as well as blue heron, Canada geese, bald eagles, ravens, mallards, hooded mergansers, black ducks, and a rare juvenile golden eagle.
"The land also serves as a natural classroom for the nearby Royalston Community School in partnership with Mount Grace's TerraCorps program."