Main content
Spring is Abuzz with Pollinator Programming
Posted Tuesday, February 28, 2023
— News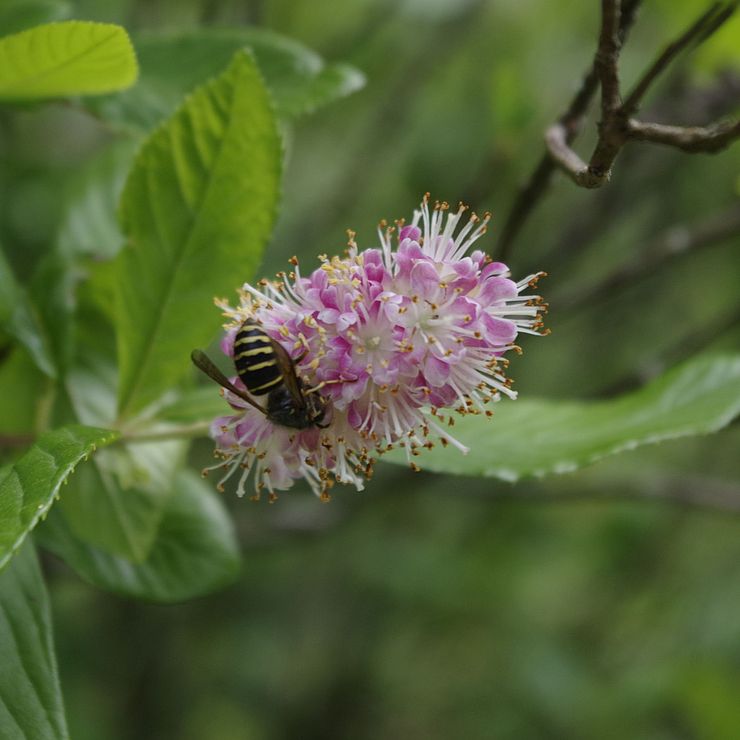 Close your eyes and listen, back through your memory, to a time that you were surrounded by the buzz of bugs. I can hear it as a low hum, mixed with the rustle of wind in leaves and scuffing of my boots through dry dirt. When I hear that buzzing, the whole world feels more alive. As the snow fills the air outside, I'm remembering a field full of sunflowers covered in sun-drunk bees.
Not all bees make honey, common enough fact, but the 400+ native bees in our region offer up something else pretty sweet - help pollinating our food crops. And, of course, bees aren't the only bugs out there pollinating stuff. There are hundreds more species of pollinators in our area that are busy with the symbiotic dance that is flowering plant reproduction, everything from flies and wasps to hummingbirds and butterflies. Just to follow the relation-game one step further - let's offer a big shout out of thanks to those plants for evolving before us, making oxygen so we could eventually breathe, and co-evolving with us humans to provide some wicked cool gifts (like food, medicine, & clothing).
I'm going to bet you've heard that pollinator health has been on the rocks for a while now. Humans haven't made it easy for these bugs with all the toxic chemicals we can spray on our lawns and fields, and invasive plants crowd out their native food sources. But let's not forget that humans can be a powerful source of good, especially when enough of us are doing good together. There is growing awareness that everyone needs to do their part to protect our little buzzing buddies, and tons of ways to learn more (see below for upcoming events). In 2021 Mount Grace worked on a project at our Skyfields Arboretum headquarters to enhance the pollinator habitat of our meadows, planting native plants like beebalm and asters, and adding nesting areas.
Even if you don't have a farm or a meadow, you can still do a lot to help out pollinators. Plant many varieties of flowers that will bloom through the growing season, avoid using pesticides (and if you do need them, read the label carefully and apply only when bees are less active), and leave some areas of your yard a little "messy" with brush and uncut grass to create more safe habitat.
That field of sunflowers that I mentioned earlier was part of the organic farm I worked at before Mount Grace, and I can tell you that farmers around here love their pollinators! They're essential for getting a good crop of squash, or tomatoes, or cucumbers…and when they're not around you can really tell. That's why we always made sure there were plenty of flowers blossoming to feed our little helpers. Whenever we were harvesting sunflowers for bouquets, we'd leave the ones where bees were napping.
You can learn lots of facts about our precious pollinators and how we can live in relationship with them at these upcoming classes, presentations, and workshops, but for now just close your eyes an imagine the warm hum of a summer meadow.
Greening Greenfield presents "Lawns to Meadows"
Thursday 3/2 at 6:30pm, 2nd Congregational Church, 16 Court Sq, Greenfield
Greening Greenfield presents "Dave Small: Living with Nature in My Backyard"
Thursday 3/16 at 6:30pm, 2nd Congregational Church, 16 Court Sq, Greenfield
Mount Grace presents "Native Bee House Making Workshop"
Saturday 3/25 at 10am, Athol Public Library, 568 Main St, Athol
"Attracting Pollinators to Your Landscape" with Tom Sullivan
3/20, at 7pm, Northfield Mountain Environmental Ed Center, 99 Millers Falls Rd, Northfield
"Creating Habitat for Native Pollinators" with Tom Sullivan
3/29 at 6:30pm, Wendell Free Library, 7 Wendell Depot Rd, Wendell