Main content
Using iNaturalist to Help Scientists
Posted Tuesday, November 1, 2022
— News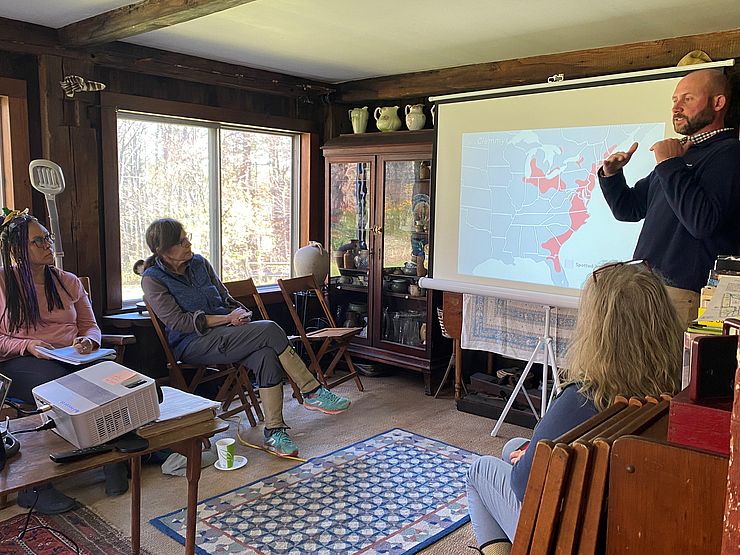 Mount Grace hosted a workshop last weekend with MassWildlife Herpetologist Mike Jones to spread the word about using iNaturalist as a tool in wildlife conservation and research. The MA Reptile Survey is one such effort that has already logged over 18,000 observations. We'll be working with Mike and other scientists to encourage the reporting of wildlife observations on our conservation areas and beyond.
The Massachusetts Reptile Survey is an iNaturalist project started by Mike in 2021 that will (1) document patterns and trends in richness, distribution, and phenology of Massachusetts' native and introduced reptiles; (2) identify and inform management and conservation opportunities; and (3) support the mission of the Massachusetts Natural Heritage and Endangered Species Program, Division of Fisheries and Wildlife, to document the biodiversity of the Commonwealth.
Using iNaturalist allows your contributions to make a huge impact on the understanding of natural systems in our region and the world. Using picture recognition technology, iNaturalist provides a platform for peer-reviewed species ID that helps with the credibility of your identification, and visa-versa. This is where citizen science comes to life.
Mount Grace has already dipped its toes into iNaturalist and has created project sites for several of our conservation areas to create a record of the biodiversity present on our protected lands. Check out a few at:
https://www.inaturalist.org/projects/eagle-reserve-recreation-area
https://www.inaturalist.org/projects/arthur-iversen-conservation-area
This year's Land Stewardship Coordinator TerraCorps Member May Grzybowski will be leading the effort to reenergize citizen science engagement with eBird and iNaturalist, stay tuned for info on workshops to get involved!