Main content
Working Lands Protected in the Greater Gales Brook Project
Posted Monday, October 3, 2022
— News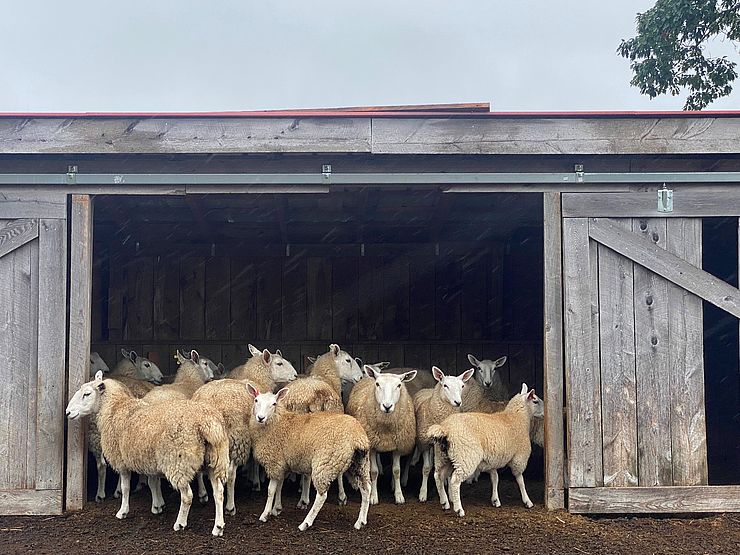 A leisurely drive east from Warwick along Athol Road offers a perfect representation of rural Massachusetts: open rolling hay fields, forests, and several babbling brooks. 700 acres in this patchwork quilt of fields, woods, and waterways in the Millers River watershed have been conserved as part of the Greater Gales Brook Conservation Project. This project was a Mount Grace Land Conservation Trust partnership in collaboration with Mass Audubon, the Town of Warwick, the MA Department of Fish and Game, and the MA Department of Conservation and Recreation.
Landscape scale conservation offers a diverse mix of land and community involved in a collaborative regional project. Working lands are fundamental part of both the landscape and the communities of this region, including several of the places conserved as part of the Greater Gales Project.
Blue Rock Farm is a 137-acre family farm built by Barb Eriksson, a local dog trainer and behaviorist who raises sheep, chicken, and beef with her husband Frank Thoma. The land is still mostly wooded, but Barb and Frank have worked hard over the past 30 years to build their off-grid home and create fields to support their livestock. "We've put so much work into making this place what it is, and it won't be finished in our lifetime," said Barbara, satisfied to know that the conservation restriction means that the land won't ever be developed.
"How many people get a chance where someone walks up to you and says, 'do you want your dream?'" asks Laura Wells-Tolley at Chase Hill Farm. In 2017, she and her partner Ben were offered that chance when they took over this Warwick farm from the Fellows family, who founded it back in the 1950s. Laura and Ben produce organic milk and cheese, eggs and meats, and a variety of prepared foods that are available at their farm stand and the Amherst Farmers' Market. Mount Grace protected 198 acres of Chase Hill Farm in 2001, and the Greater Gales Project adds to that by conserving additional hayfields that the farm rents from David Spackman and Judy Selednick.
Farm conservation is a key part of Mount Grace's overall strategy for land protection. Protecting working lands not only saves open space, but also keeps local jobs and income in the rural economy. Since 1986, Mount Grace has worked to protect nearly fifty farms in their 37,000 acres conserved around the North Quabbin region.
"Given the alarming rate at which we are losing farmland, landscape-scale conservation projects like Greater Gales – which enable protection of more acres at a higher pace with limited resources – become increasingly important," said Mount Grace's Farm Conservation Program Manager Rocio Lalanda.
Mount Grace Land Conservation Trust and Mass Audubon engaged and partnered with a dozen landowners to determine how best to protect each of their property as part of this collaboration. The project has been made possible by a Massachusetts Landscape Partnership Grant, which provided a grant for the project in 2021. This project has also been supported by grants from the Bafflin Foundation, the Quabbin to Cardigan Initiative, the William Wharton Foundation, and two anonymous foundations. Gifts also came in from families and individuals around Massachusetts.