Main content
Grant Awarded for Stewardship at Eagle Reserve
Posted Wednesday, January 4, 2023
— News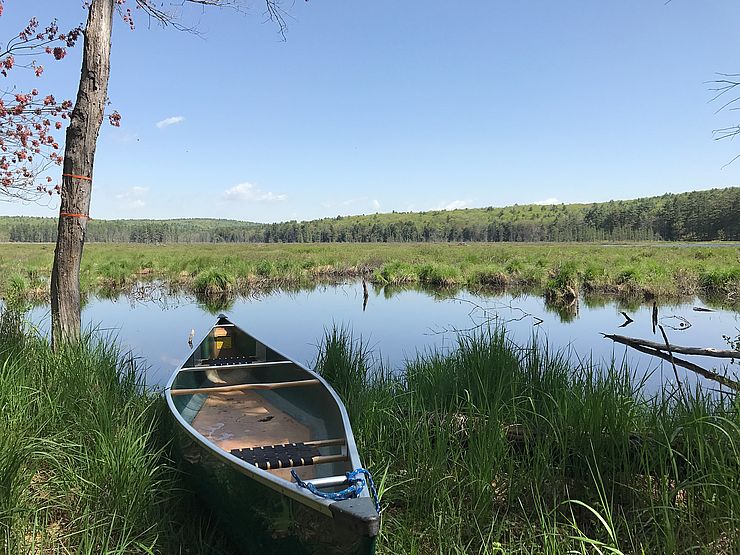 Conserving land is not enough to ensure it is protected for future generations. Building a relationship with the land and stewarding it for a healthy and balanced ecosystem is also an important role Mount Grace plays. Invasive species are major threats to biodiversity, degrade or displace native habitats, and compete with native wildlife. Mount Grace was awarded a grant from the Hollis Declan Leverett Memorial Fund, Bank of America, N.A., Trustee to support our efforts to control invasive species that are encroaching on the shoreline at Eagle Reserve Conservation Area, a 139-acre mix of woodlands and wetlands in Royalston.
Mount Grace manages nearly 2,000 acres and is committed to maintaining the biodiversity of the various native forest, field, and wetland habitats we steward. Invasive plants can disrupt a natural community's food web in many ways, including reducing host plant availability for insects, and offering lower-value (or no value) nutrition for birds. When invasives encroach on our land, usually due to either colonization from abutting land or presence on a parcel donated to Mount Grace, our stewardship team prioritizes thorough removal, followed by re-establishing of native species. Removal in this case will be carried out by a mix of staff, professional contractors and volunteers. Volunteers and Mount Grace staff will then be engaged to monitor properties for signs of invasive resurgence.
Eagle Reserve Conservation Area is a mix of wetlands and upland forests that supports rare natural communities and 133 observed bird species (eBird). Eagle Reserve, named for its nesting bald eagle population, hosts an impressive amount of threated bird populations identified by the State of Massachusetts 2015 Wildlife Action Plan. This rich ecosystem is threatened by invasive plant species displacing our native plants, degrading the habitat for native bird species. Successful completion of this project will promote a healthier forest with improved nesting habitats, foraging and mating cover, and quality food sources for native bird populations.
At Eagle Reserve Conservation Area we will expand last year's effort to remove invasives. Forests are degraded by the presence of invasive plant species which outcompete and displace native plants, threating ecosystem structure. Species such as glossy buckhorn, burning bush, honeysuckle, and oriental bittersweet are prevalent throughout the region and pose a stewardship risk to many land managers.
Although some species of native birds will successfully use these non-native shrubs as a food source or nesting site, their fruits have lower nutritional value and differ in timing of ripeness compared to native shrubs, rendering the food source unsustainable for long migrations, and the structure of the shrubs can lead to higher predation rates if using for nesting. Native shrubs, in comparison, have almost double the nutritional value. Removing and mitigating the spread of invasive species will give native shrub species the chance to reestablish and provide safe and viable habitat for native birds.
If you are interested in participating in volunteer workdays to assist in the removal of invasive species, eBird/iNaturalist workshops to monitor the biodiversity of bird species, or volunteering for regular trail monitoring, e-mail Jessica at bryant@mountgrace.org