Main content
National Pollinators Month
Posted Thursday, June 1, 2023
— News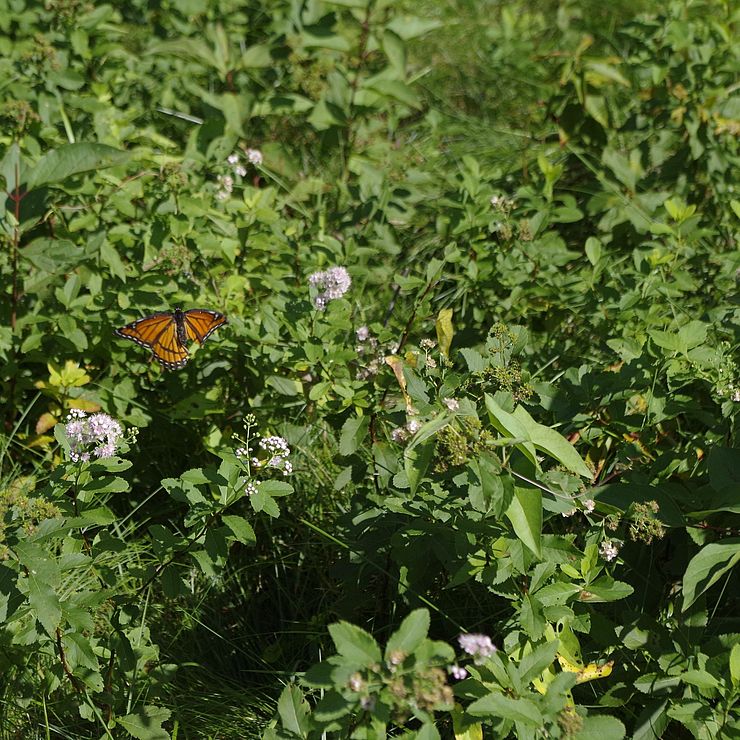 We eased our way into the growing season with "no-mow May," an easy way to support pollinators by allowing flowers to bloom and provide an early food source. Now we transition right into National Pollinator Month, and a few things to consider for our buzzy buddies in the month of June.
This month, consider planting a pollinator garden or just adding a couple new plants to your home that are native pollen and nectar-producing plants. When these gardens bloom, they attract bees, birds, bats, and other natural pollinators. Garden stores and farmers markets are full of plants large and small that will make a big difference to your backyard biodiversity. It's also not too late to scatter one of the many wildflower seed blends over an open patch of ground – just water daily & be patient.
Here at Skyfields Arboretum, our Pollinator Meadow has been abuzz with life! When we planted over 20 species of native pollinator plants in 2021, thanks in part to a grant from the Hollis Declan Leverett Memorial Fund, we chose a mix that would be blossoming at different times throughout the growing season to keep everyone well fed.
When we say "pollinators," we're referring to many different species. Counting just native bees, there are 400 different species in New England! Other important pollinators are butterflies and moths, flies and wasps, even birds and bats.
Flower shape and size provides visual clues and a structure that allows a specific, co-evolved pollinator to contact the flower's anthers and stigmas. Beetle pollinated flowers tend to have larger and more open flowers that provide an easy landing pad since beetles are not as agile in flight as other flying insects. The long nectar spurs of plants in the mint family allow the nectar to be accessed only by specific pollinators such as butterflies and hummingbirds.
Support your local farmers as well as pollinators by picking up some plants at a nearby farm store or farmers market. To learn more about pollinators and the Pollinator Meadow at Skyfields, join us on Sunday 6/25, 1-4pm for a Mount Grace naturalist hike during the North Quabbin Trail Association's "Healing Thru Nature" event (more details HERE).