Main content
On the Trails: Cutthroat Brook Tree Farm
Posted Thursday, June 1, 2023
— News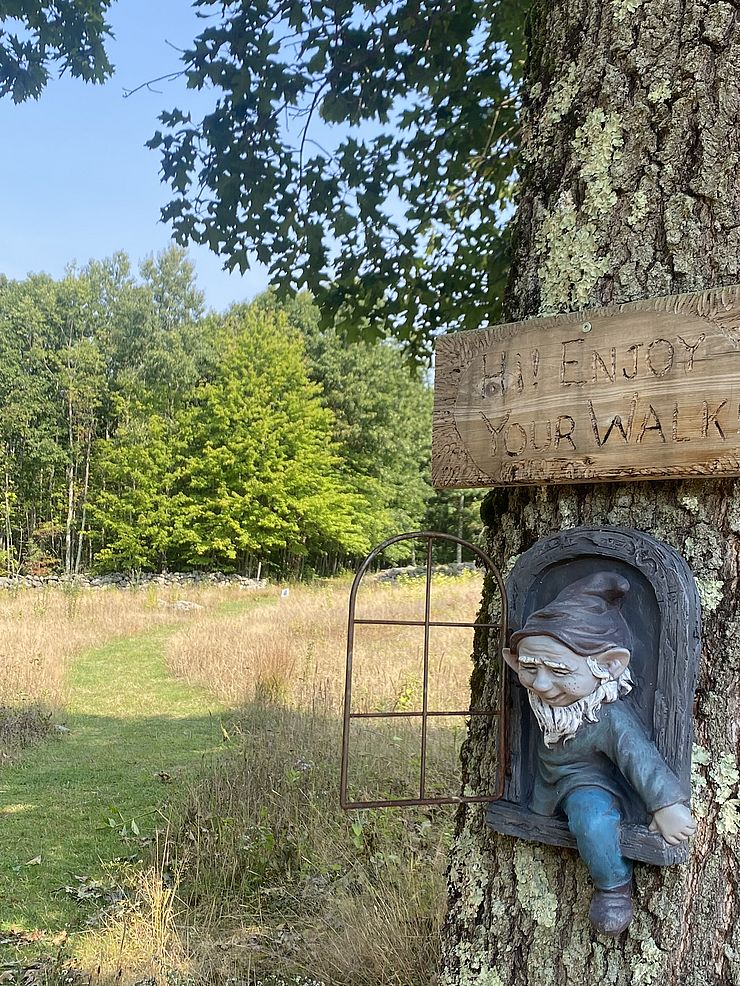 One of the best places to hike in our region is the Cutthroat Brook Tree Farm, with many miles of trails on private property in Athol, Petersham and Phillipston.
The owners of this land, Ben and Susie Feldman, protected the mostly forested land in perpetuity with the help of Mount Grace, and they worked with the North Quabbin Trails Association to develop an elaborate system of trails over varied terrain.
This means hikers of varied abilities can choose just the right experience, and no matter if the hike is easy, moderate or difficult, you'll be in beautiful woodlands and encounter interesting geological features. It can be spiritually beneficial and enlightening (aside from good exercise). There's a "learning loop" developed by Mount Grace with informative signage.
Further down in this article, I'll offer you links to maps that can be downloaded, but first, here's a little history (from the Mount Grace website):
"In 1947, Barbara and Richard B. Ellis bought 40 acres at the top of Briggs Road in Athol. The hunting cabin and colonial barn on the land had no electricity or running water, so the couple embarked on the first of a series of remodels and additions as they raised their children on the land. Barbara Ellis, a noted watercolorist, and Richard, principal of Athol High School, also began purchasing other neighboring parcels as they became available to piece together what was the historic Briggs Farm. When their daughter Susie moved back to town, after marrying her husband Ben Feldman, the family owned hundreds of acres of contiguous land in Phillipston, Petersham, and Athol. In 2016, Ben and Susie Feldman permanently protected 297 acres with a conservation restriction (CR), keeping that land in private ownership and undeveloped forever.
"Funded by the MA Landscape Partnership Program, this was part of the multi-landowner, multi-partner Quabbin Heritage Landscape Project. The Athol Conservation Commission, Petersham Conservation Commission, and Phillipston Conservation Commission all co-hold this CR. The conservation of this property also leveraged the Quabbin to Wachusett Forest Legacy project."
Bobby Curley, founder and president of the North Quabbin Trails Association has put in thousands of hours of work – aided by friends and NQTA members (with financial support from the Feldmans) – to improve and maintain about 15 miles of trails. They have installed some sturdy foot bridges over streams, and when storms bring down tree branches, they return to clear things up.
Susie Feldman commented, "A few of the trails are old roads, some were trails my Dad made for getting firewood (with his l936 Ford) and some we just developed for going fun places on foot or horseback."
Gnomes scattered all along these trails add whimsy to the experience for children of all ages. The Feldmans received some gnomes as gifts many years ago and placed them in the woods. Over the years, more gnomes of different types have been acquired from friends and family members. I donated a rainbow gnome and named it Harvey in honor of Harvey Milk.
Using GPS, the address is 586 Briggs Road, Athol. Briggs Road is off Route 32, a few miles south of Athol, right on the Petersham town line. Go up Briggs Road less than a mile and look for the parking area on the left. Maps are posted and it could be helpful to use your cell phone to take some photos of the maps.
There are two maps available free of charge online – downloadable .pdf files. The first one below is a kind of "macro" summary of the network with few details, and the second one is quite detailed with two separate panels. Both are helpful; it can be a little overwhelming to make a hiking plan because there are so many options. You'll want to return!
I would recommend to first-timers, especially those seeking easy or moderate hikes, that they explore the Cascades Section, which is clearly delineated on the maps. More ambitious hikers can explore as they see fit. Here are the links to the maps.
https://www.scribd.com/document/452931342/The-Cutthroat-Brook-Tree-Farm-Gnome-Trails
#
https://www.mountgrace.org/fileadmin/files/Trail_Maps/Cutthroat_Brook_Tree_Farm_Trails_Map.pdf
You can also get these maps and a whole bunch of other hiking maps mailed to you if you join the North Quabbin Trails Association (www.nqta.org).
I'll end this with a very moving comment from Susie Feldman on the "philosophy" behind all of this:
"We protected this land through MGLCT for the sake of both conservation and education. We believe that the way to conserve land is not to put a fence around it, but to enable people to interact with it and come to understand the necessity of preserving forests. If people, whatever their age or interest, can have enjoyable, safe experiences in our woodland, they may take an interest in and somehow contribute to the continued existence of our diminishing natural forested landscape. Our mission is to create an opportunity for people to develop this understanding; our hope is that they will act upon it."