Main content
Conservation Publications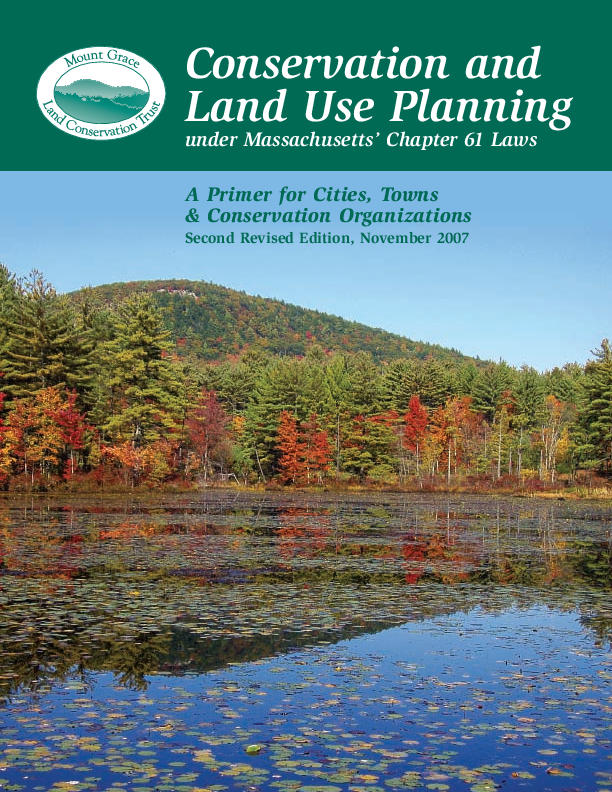 Conservation and Land Use Planning
A new primer for cities, towns and conservation organizations
Mount Grace's publication, Conservation and Land Use Planning under Massachusetts Chapter 61 Laws, summarizes various classifications of Chapter 61 and outlines steps to evaluate and exercise right-of-first-refusal opportunities. The handbook, written by Stacey Francese and Jay Rasku, is updated to incorporate recent amendments to the laws.
A hard copy of the handbook is available for $5 plus $2 for shipping and handling. You may also download a free pdf of the handbook below.
If you wish to purchase 5 or more hard copies of the guide, please contact us about bulk discounts by emailing David Kotker.
Buy the Print Edition
Print Price: $7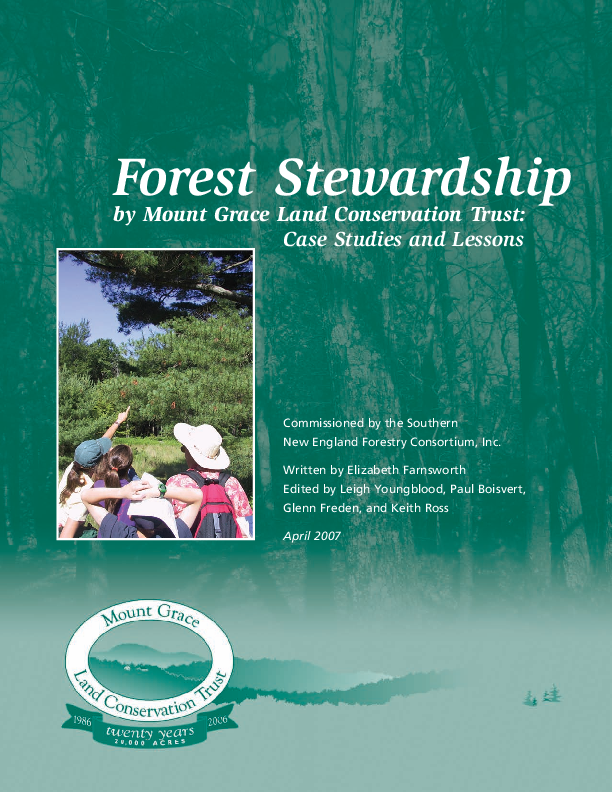 Forest Stewardship: Case Studies and Lessons
This report profiles Mount Grace's forest stewardship activities. Mount Grace has been an early proponent among land trusts in New England of active management of conservation properties. The report, commissioned by the Southern New England Forestry Consortium, uses three case studies to explore the evolution of Mount Grace's flexible forestry philosophy, its relations with landowners and foresters, and some of the challenges inherent in stewarding forests.
A hard copy of the handbook is available for $5 plus $2 for shipping and handling. You may also download a free pdf of the handbook below.
Buy the Print Edition
Print Price: $7
Protecting Your Legacy: A Massachusetts landowner's guide to conservation-based estate planning
Co-authored by Mount Grace, this guide features real-life case studies about how some Massachusetts landowners and families used a variety of estate planning professionals and tools to develop creative solutions to meet their needs and goals.
The Protecting Your Legacy guide may be downloaded for free below.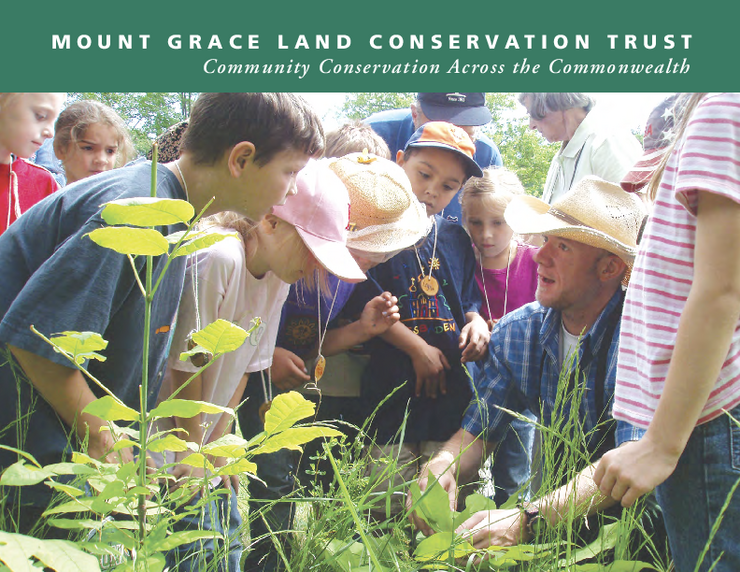 Mount Grace Impact Statement
Mount Grace's work plays a critical role in maintaining the diversity, structure, and capacity of the regional and local land conservation community across the Commonwealth. Our Impact Statement describes the work of our Community, Farm, and Landscape Conservation Programs in our immediate service area, while also highlighting the groundbreaking work of our Stewardship Program and our efforts to engage community members and encourage conservation partnerships across the Commonwealth.
The Impact Statement may be downloaded for free below.

Hard copies are no longer available, but you can download a pdf of the 28-page history of the building of the Tully Trail (the second project of the North Quabbin Regional Landscape Partnership) for free below.

Twenty Years, Twenty Hikes
A guide to trails on protected land
Written by John Burke, Elizabeth Farnsworth, & Allen Young, edited by Nathan Rudolph, with an introduction by Leigh Youngblood and maps by Elizabeth Farnsworth
Twenty hikes (actually nineteen hikes and one canoe trip) highlight some of the projects we have worked on which are best suited to hiking or visiting. Selected from more than 200 land protection projects Mount Grace Land Conservation Trust has assisted with over the years, each of the trails crosses a portion of the extensive mosaic of protected land that characterizes the local landscape of the greater North Quabbin region. This 48-pp. spiral bound book is a handy field reference that will fit easily into a backpack.
The guide is now being revised. You may download a free pdf copy of the current edition below.