Main content
Cultivating Kinship in Forest Stewardship
Posted Thursday, October 5, 2023
— News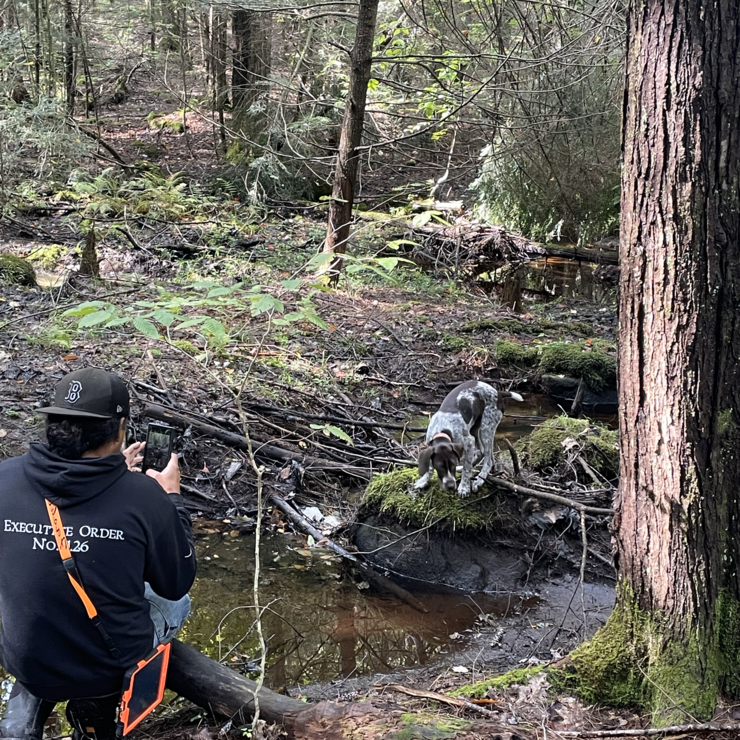 Our work in partnership with Nipmuc Cultural Stewards is shaping how we see the land and how we care for it. Last week, we had an awesome day in the woods getting ready for our forest management project at Guiney Memorial Forest in Royalston. For over a year now, we've been working with a Nipmuc Cultural Steward, Andre StrongBearHeart Gaines Jr., to incorporate Traditional Ecological Knowledge into our forest management plans across the region. Andre was out with our consulting forester Mike Mauri, Climate and Land Justice Specialist Jenn Albertine, and other members of the Nipmuc Tribe, assessing the forest conditions before beginning ecological restoration work for bird habitat at this 33-acre wildlife sanctuary.

Each of us has a different perspective when we enter the forest. Mike looks up first, as a trained forester he's focused on the trees – their size and age, the different species and their distribution, their spacing and health. Andre was looking down at the understory, herbaceous plants, the blueberries, the food and medicine. On that day, everyone also had their eyes on Tilly, the newest addition to our staff (excelling in her role as Executive Distractor). Tilly had her eye on the flutter of every bird (or leaf), taking our job of monitoring woodland bird populations for the Cornell Bird Lab very seriously. After we complete the management project, we'll be back out here again with volunteers to monitor the effects of our work on target bird species with eBird and to see which understory plants increase with more light from the open canopy.

Broadening our perspectives has led to more thoughtful forest management, and our partnership with the Nipmuc has taught us a lot about our relationship with the forest. We're learning more about a model of stewardship that gives back to the forest, that cultivates kinship.

Mount Grace acknowledges that the lands we protect and care for are the traditional homelands of Indigenous people, that the land that we protect was sustainably stewarded by Indigenous Tribes of the Eastern Woodlands for thousands of years. Mount Grace is working to identifying pathways by which we and other land trusts can return land access to the Indigenous Tribes of our region. We are collaborating with members of the Nipmuc Tribe to include Indigenous knowledge in the development of conservation priorities and land stewardship plans. These practices will enhance the sustainability and resilience of lands we steward, which is more urgent than ever in the face of the climate change crisis.